Stimmen aus Rio...
Aus den offiziellen FEI-Pressemitteilungen: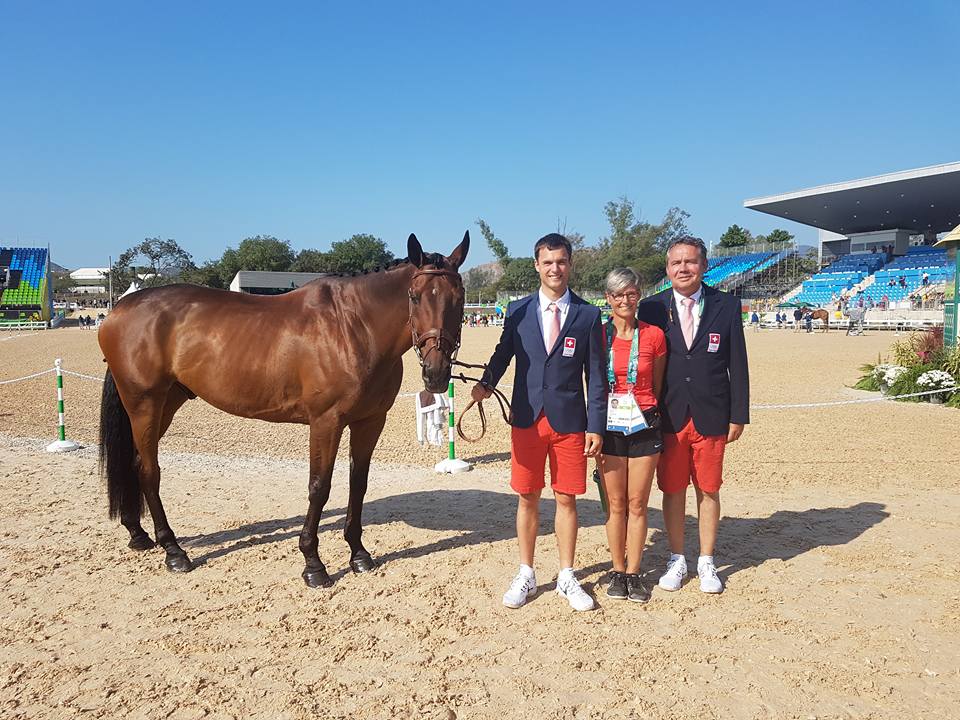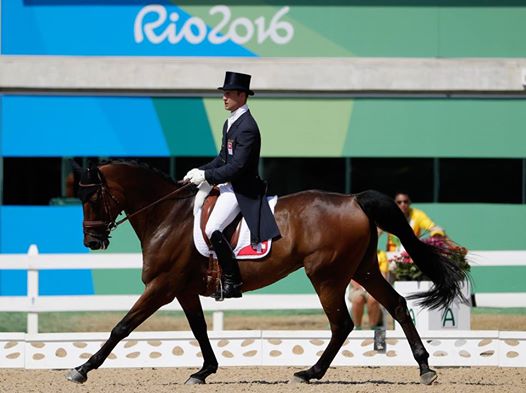 (Foto: Danièle, Facebook)
Fazit des Equipenchefs und Teamveterinärs Dominik Burger: «Unsere Zielsetzung konnten wir leider nicht erreichen, trotzdem gibt es auch Positives: Ben und Felix Vogg sind noch jung und konnten so Erfahrungen sammeln.» Das sei vielversprechend für die Zukunft, beide hätten viel Talent. «Und als Veterinär freue ich mich natürlich, dass beide Pferde nun gesund und fit wieder heimkehren.»
Zu den Resultaten der beiden Reiter ergänzt er: «Ben zeigte eine solide Leistung mit seinem Pferd, welches er notabene seit Juniorenalter reitet. Felix hat nach seinem vielversprechenden Dressurresultat alles auf eine Karte gesetzt und hat im Gelände versucht, im Einzelklassement nach vorne zu kommen.» Mit der Gefahrt dass, wenn die Rechnung nicht aufgeht, man eben auch schnell raus ist aus dem Rennen. (Quelle: www.fnch.ch)
TAG 4 SPRINGEN
Fabulous French win Eventing team gold; Germany's Jung takes second successive individual title
By Louise Parkes
France claimed team gold and Germany's Michael Jung took his second successive individual title as Olympic Eventing drew to a close at Deodoro Olympic Park in Rio de Janeiro (BRA) today.
Team
In a cliff-hanger of a contest it came down to the last four into the arena to decide the team result, and it was the defending champions from Germany who claimed silver with Australia slipping from the overnight lead to take the bronze.
The Australians were in charge as the day began, but with only a 4.5 point advantage over their New Zealand neighbours while the French were just 6.2 further adrift and the Germans were stalking the leading pack over 11 penalty points further behind. France was the only one of the leading sides to go into today's closing phase with a fully intact four-member team however, and in the end that proved the clincher.
The 12-fence track tested the turning skills of horses that took on one of the toughest Olympic Eventing cross-country tracks of all time yesterday. But most were jumping fresh and well again today and the pure quality of the four French horses was key to success.
Australia's grip on the lead was severely undermined by a cricket score for their opener, Stuart Tinney, whose horse Pluto Mio kicked out four fences and also went over the time-allowed to collect a very expensive 17 faults. This dropped them into bronze medal spot, and left New Zealand out in front despite a single mistake from opener Jonelle Price with Faerie Dianimo. The French were already looking very comfortable after fabulous rounds from both Karim Laghouag with Entebbe and Thibaut Vallette riding Qing de Briot, but they began to look vulnerable when Mathieu Lemoine's Bart L got tired towards the end of the track and left two fences on the floor for eight faults.
Enhanced
The Kiwis lead meanwhile was further enhanced by a great clear from Clarke Johnstone and Balmoral Sensation, while the Australians held their ground when Sam Griffiths returned on a zero score with Paulank Brockagh. Their chance of gold was gone, but they would hold onto bronze if the man who has led the individual standings throughout the competition so far, Christopher Burton, could bring Santano II home without incident.
As the final moments played out however the Germans loomed large on the horizon when Sandra Auffarth (Opgun Louvo), Ingrid Klimke (Bob) and Michael Jung (Sam) posted three superb clears to pile the pressure on the three teams ahead of them. The French didn't flinch, and a foot-perfect run from their four-line rider, Astier Nicolas with Piaf de B'Neville, meant they posted a finishing score of 169.0 penalties.
It was still all to play for as legendary double Olympic gold medallist Mark Todd came in as anchorman for New Zealand, but a heart-wrenching 16 faults with Leonidas ll sent Kiwi chances crashing down. Their finishing score of 178.80 left them almost three penalty points behind the Germans and now only an Australian meltdown could keep them on the podium.
And the drama lasted to the very end. Australia's Burton and Santano picked up eight faults to round up the Aussie finishing score to 175.30 for bronze, relegating New Zealand to fourth, 3.5 points adrift.
Record
Todd was tipped for the sixth Olympic medal of his career which would have been a New Zealand record. "That will be one of the biggest lows in my career. The whole week was a roller coaster ride. After yesterday's cross country we were still in with a chance and then - boom – you're out. I was hoping to go out on a high. Leonidas is such a good jumper but he got wound up when going into the arena. I thought he would settle but he got more and more rattled," said the shattered 60-year-old Kiwi legend.
The French however were on a high. This is the first gold and only the second medal of the Rio 2016 Olympic Games for the country that has only won two previous team titles in Eventing - a bronze in Rome in 1960 and gold at Athens in 2004.
"This is fantastic," a clearly thrilled Astier Nicolas said afterwards. "There was a lot of pressure going into this, and really I just had to do what I could for the team. But even though there was a lot of pressure, I didn't let it bother me. I really enjoyed my round and I am very happy. It's just fantastic. It is an immense pleasure to be part of this team that has won gold for France. It is something we have waited for for a long time, and it's amazing!"
Individual
Jung (34) matched the record set by New Zealand's Mark Todd at Los Angeles (USA) in 1984 and Seoul (KOR) in 1988 when making it a back-to-back double of individual Olympic Eventing golds. And, also like Todd, he rode the same horse that carried him to both team and individual glory in London (GBR) four years ago - Sam.
The defence of his London 2012 title didn't get off to the perfect start as he had to settle for fifth place after the opening dressage phase, but a sensational cross-country run with the 16-year-old Sam yesterday moved him up into second behind overnight leaders, Australia's Christopher Burton and Santano II.
Having contributed to his country's team silver medal winning performance this morning with a copybook showjumping performance, Jung moved into pole position and couldn't be toppled. And in a nail-biting finale, it was French team gold medallist Nicolas Astier who took the silver with Piaf de B'Neville, while America's Philip Dutton and Mighty Nice moved up from fourth to take the bronze.
Man to beat
Jung came to Rio as the man to beat, with not just team and individual gold from London 2012 on his career record but also the individual world title from Kentucky (USA) in 2010 and team gold at Normandy (FRA) in 2014 along with three consecutive double-European titles. He's long been a phenomenon, and today's result further confirms his supremacy as one of the most successful athletes in the history of this super-tough sport.
Burton had already dropped to third as the individual final action began with the top 25 jumping in reverse order of merit, and two fences down cost him a podium placing, allowing Dutton to move up the order in the closing stages. The 52-year-old American made just one mistake with the aptly-named Mighty Nice to post a final score of 51.80.
Frenchman Astier Nicolas was lying in silver medal spot having helped secure team gold for his country this morning with another fabulous another fabulous ride on his 13-year-old gelding Piaf de B'Neville. In 11th after dressage, his cross-country clear yesterday sent him rocketing up to third individually, and another fault-free effort this morning moved him up another place in the race for the ultimate prize. An uncharacteristically wild jump at the third fence added four jumping penalties and two time faults, but even though that moved their scoreline up to 48.00 they still held the lead as Jung returned to the arena.
Cooler
But they don't come any cooler than the man from the Black Forest and he made it look like a walk in the park as he crossed the finish line having added no penalties to his first-day total of 40.90, leaving him 7.1 penalties clear of Nicolas, the biggest winning margin in Eventing since the Barcelona 1992 Olympics when Australia's Matt Ryan and Kibah Tic Toc won by a margin of 11.2.
"It's the second time to win with Sam and that makes it even more special, I couldn't be more proud of him", Jung said. "He is so strong, on the cross-country he can run every hill, jump every fence but in showjumping he's very nervous and it's hard for him to concentrate. He jumped better in the second round than in the first. Yesterday it was difficult for me in the warm-up because of the people and the noise, but today the preparation was much nicer because it was quiet and he could settle." And he added without hesitation when asked where he goes from here: "well Tokyo 2020 of course, and the Europeans and maybe the world title along the way!"
The final leaderboard showed Australia's Sam Griffiths and Christopher Burton in fourth and fifth places followed by New Zealand's Clarke Johnstone (Balmoral Sensation) and Mark Todd (Leonidas ll) in sixth and seventh while China's Alex Hua Tian sent a ripple of excitement across China when slotting into eighth place. "I can't believe it. I came here hoping to be in the top 20 - I never imagined this!" said the 26-year-old rider.
Quotes:
Phillip Dutton (USA) - individual bronze: "I wasn't actually expecting medal today. I was pretty happy with fourth. But now I'm pretty ecstatic about third!"
Christopher Burton (AUS) - team bronze: "Santano is a young green horse and today he showed his greenness a little bit. But he's been far and above our expectations of what we thought when we bought him. So we're still very happy."
Ingrid Klimke (GER) - team silver: "My own personal aim was to finish like I sat in dressage, because I was very pleased with the dressage and now with the jumping. Yesterday...I would lie if I said we celebrated with a few beers last night (after cross-country). But on the other hand I must say I think my horse is a hero because he did so many wonderful things. There was just this one moment that there was a mistake."
Talking about being with other event riders: "It's always a big hug - yesterday from the people who were disappointed. There were many of them, so we were a good group. We were saying, 'It was bad luck today or whatever, but this was not our day.' And others we congratulated because we saw that they did wonderful rounds. It's just great to be together and have these special moments."
Sam Griffiths (AUS) - team bronze: "To go clear in an Olympic stadium is always a great thrill. The team competition was so tight, I knew I needed to go clear. But, to be honest, I'm sitting on what I think is one of the best horses in the world (mare Paulank Brockagh). I just sort of have to tell her where to go and she did the rest for me! Winning medals is great because it means we can bring our sport to the wider public. Obviously winning Badminton is also fantastic, but to take a sport to a wider community is always great."
Alex Hua Tian (CHN) - The Don (Don Geniro) was very special this week. He is only nine years old and very inexperienced. This was a great week for me, for equestrian sport and for China. The hard work starts now with raising funds for the next four years. It does not stop. I will go home and have young horses to qualify for their (young horse eventing) world championships (at Le Lion d'Angers, France). Other riders will think about Badminton or Burghley but for me it will be Tokyo."
Astier Nicolas (FRA) - team gold and individual silver : "It's been a long wait to bring team gold back to France and victory tastes good today. I was lucky my horse felt very good even if he was tired after the cross-country. In the first round today I knew I had to jump clear for us to win, and that;s why I was not so good in the second round - it was just bad riding! My horse (Piaf De B'Neville) has been bought by a good owner of mine who then built a syndicate for him, with family and friends, so its amazing to have an owner as a team-mate! We have only nice people around him and he is the horse of my life, a good friend for me and a very very nice person!"
FOTOS/INFOS von Danièle Vogg: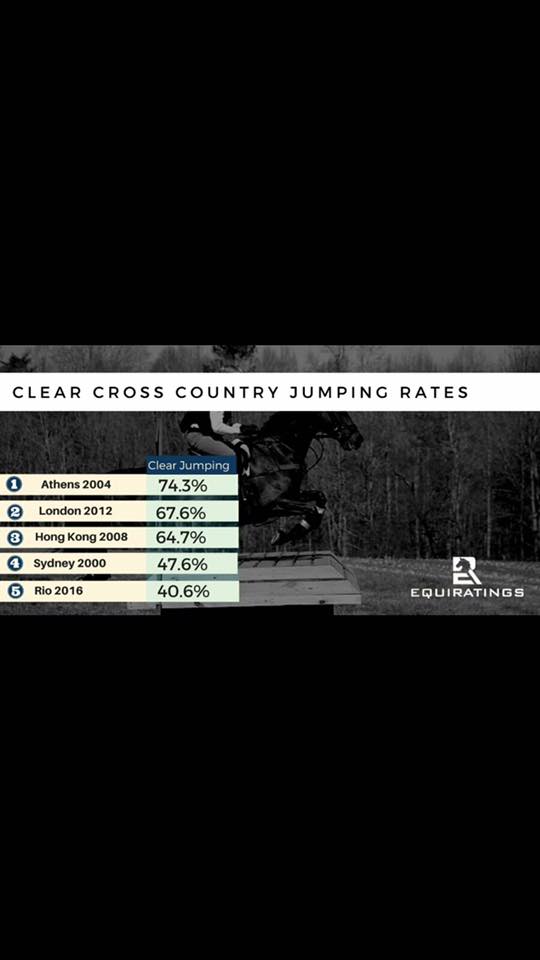 Danièle Vogg: "Was soll man da noch sagen. Cross war ein reeller 4* Kurs. Die FEI möchte, dass Eventing olympisch bleibt. Wenn es so weitergeht ist dies fraglich. Auch möchte die FEI viele Fahnen sehen an Olympia - ist dies möglich mit so schweren Kursen?? Was wäre gewesen bei höheren Temperaturen? Wir hatten Glück, dass genau am Crosstag wesentlich kühler war als die anderen Tage. Laut den Offiziellen hätte man verkürzen können aber hätten sie es auch getan??
Schade um unseren Sport."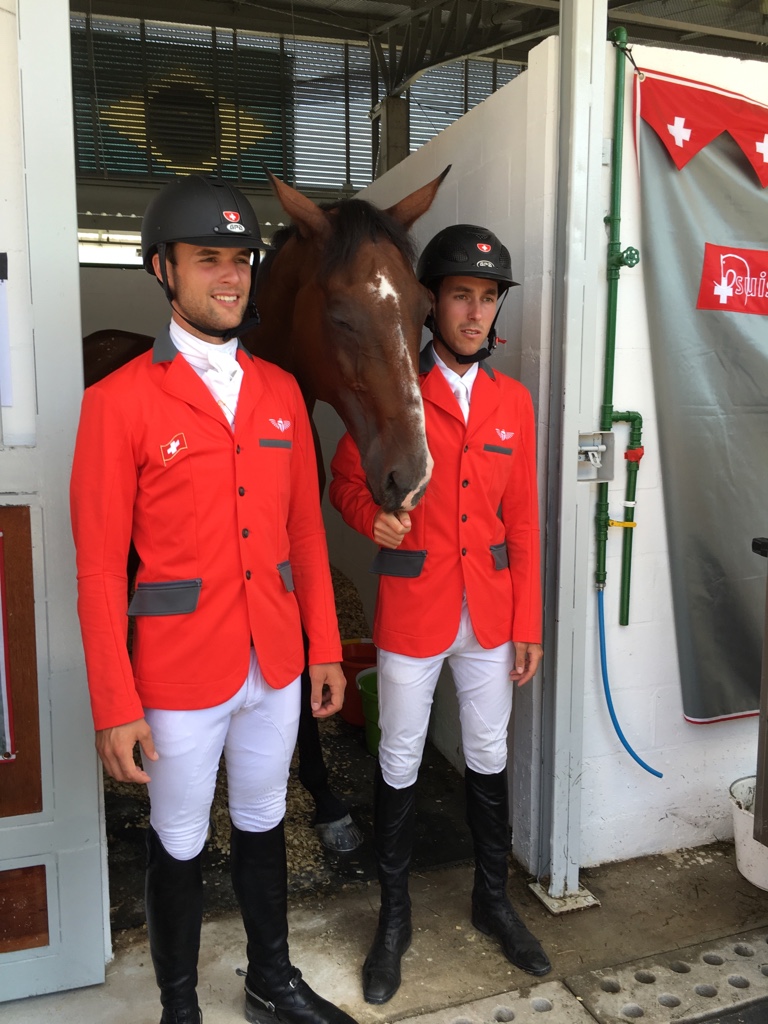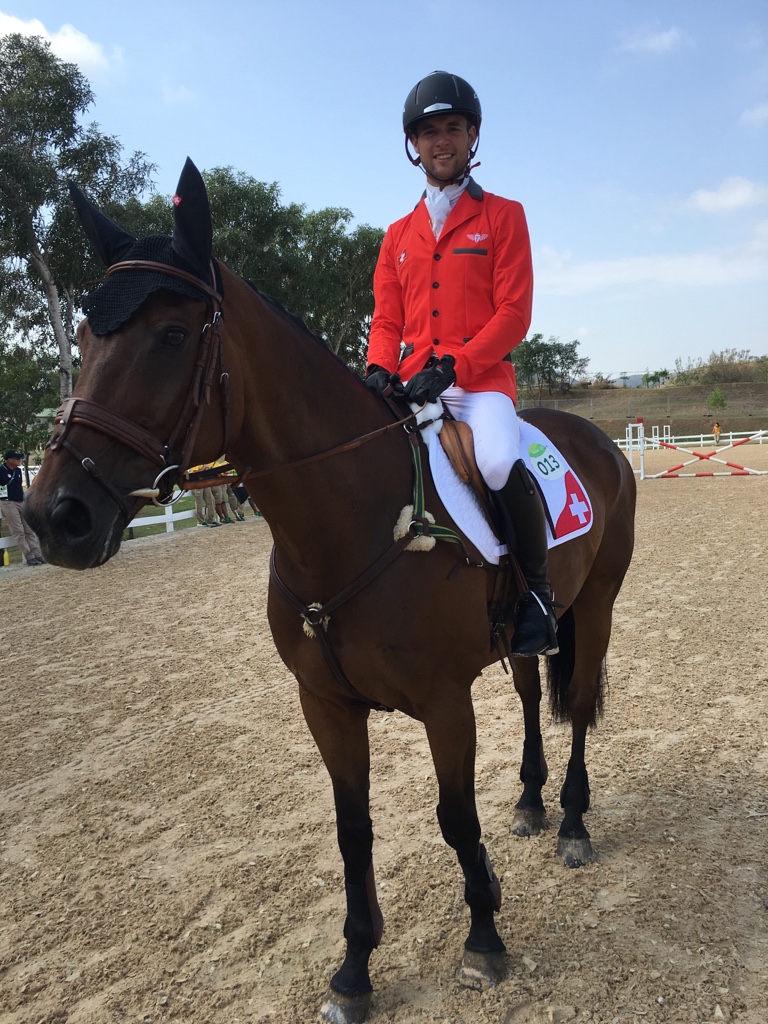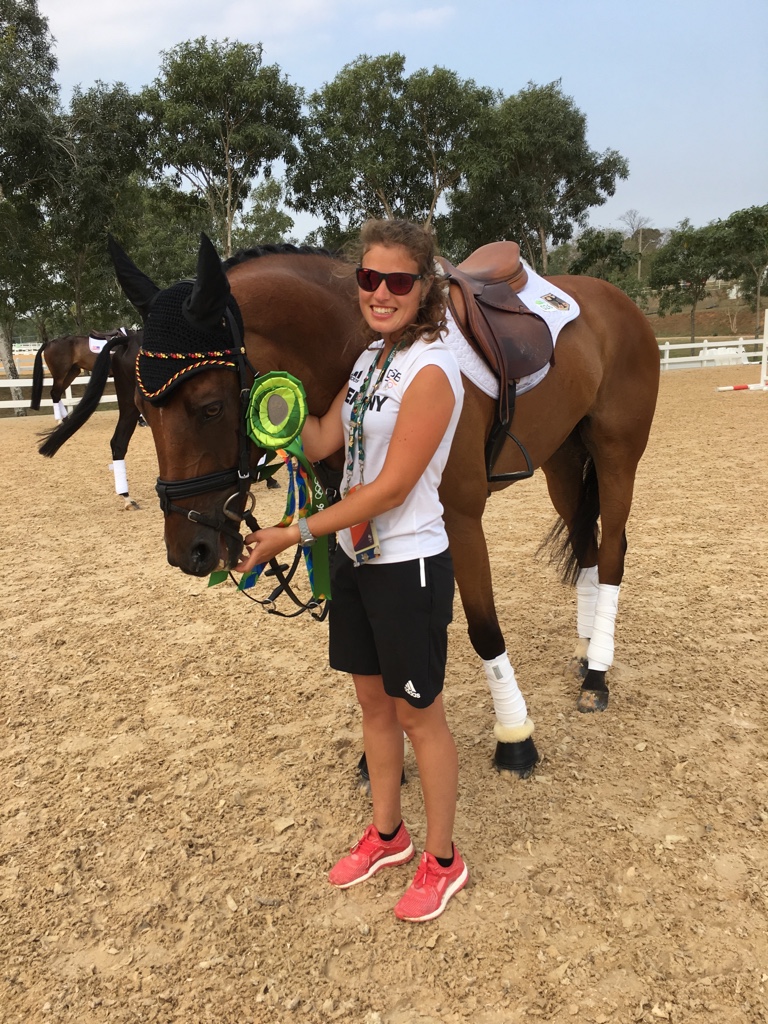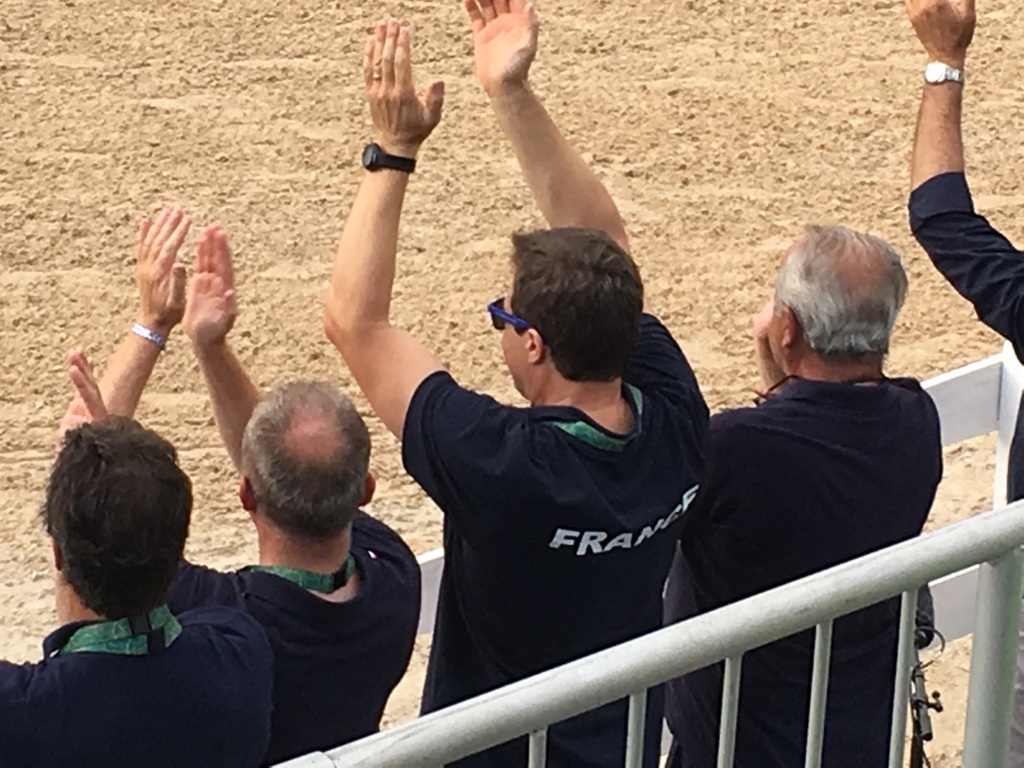 TAG 3 CROSS
Ben Vogg (Quelle: Facebook):
Noé der Kämpfer! Anfangs waren Noé und ich nicht immer gleicher Meinung, was sich gegen Schluss aber gelegt hat. Nach unserem Vorbeiläufer bei 9 und kleinen Handlingproblemen habe ich entschieden auf Nummer sicher zu gehen und einige Alternativen in kauf zu nehmen. Was uns leider viel Zeit gekostet, aber und sicher nach Hause gebracht hat. Gegen Ende wurde Noé recht müde, was bei diesem schweren Kurs aber normal ist, trotz allem hat er sich tapfer bis zum Ende durchgekämpft!! Ich bin stolz auf ihn!
FEI Pressemitteilung:
Aussies in front after spectacular Olympic Eventing cross-country challenge
By Louise Parkes
Australia, Eventing team gold medallists in Barcelona 1992, Atlanta 1996 and Sydney 2000, heads both the team and individual standings in Olympic Eventing after a day of cross-country thrills, spills and surprises at the Rio 2016 Olympic Equestrian Venue in Deodoro today, topping the teams on 150.3 and with Christopher Burton in pole position in the individual rankings with Santano II. But their neighbours from New Zealand are stalking them closely going into tomorrow's final showjumping phase, just 4.5 penalties adrift, with the French in hot pursuit in overnight bronze a further 6.2 off the pace.
Germany, London 2012 team gold medalists and leaders after dressage, dropped to fourth on 172.8, while Britain's William Fox-Pitt plummeted from pole position on the individual leaderboard to 22nd after a runout at the final element of the Ski Jump at fence 20 on a course that all the riders agreed was an enormous test. The statistics tell the tale of a tough day at the office, with eight of the 13 teams reduced to just three team-members, and USA and Russia no longer in contention after retirements and eliminations.
Only Brazil, France and Great Britain will have full four-member sides as tomorrow's action begins, provided all goes well in the early-morning horse inspection.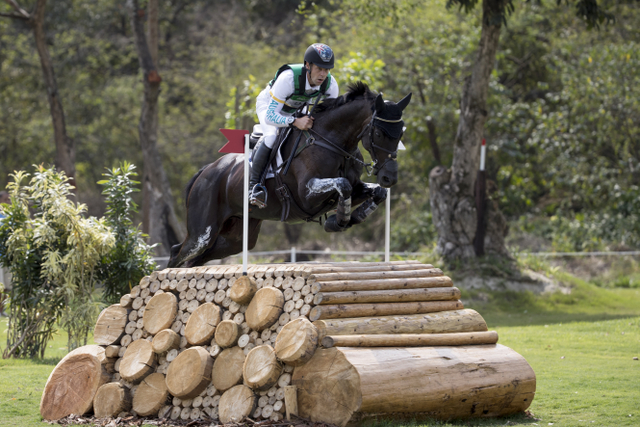 Influential
It was clear from the outset that the 33-fence track would prove hugely influential, and with three of the first eight riders biting the dirt it more than lived up to expectations.
Sam Griffiths got the Australians off to the perfect start however when cruising home with the lovely Irish mare, Paulank Brockagh, with only 6.8 time penalties to add to his dressage score, and when Burton and his super-talented nine-year-old, Santano ll, produced one of just three zero scores on the day then things were looking even better. That was reinforced by another great run from Stuart Tinney and Pluto Mio who put just 2.8 time penalties on the board, so even though Shane Rose was eliminated late on the track with CP Qualified they still went out in front at the end of the day.
With New Zealand pathfinder Tim Price out of the picture after a slip-up on the flat, the remaining Kiwis had no choice but to keep it together and they succeeded brilliantly, the legendary Sir Mark Todd (Leonidas ll), Clarke Johnstone (Balmoral Sensation) and Tim Price's wife, Jonelle Price (Faerie Dianimo) each collecting just time faults to leave them on a scoreline of 154.80.
Meanwhile Astier Nicolas (Piaf de B'Neville) set up the French with a fault-free run so they could drop the 50.40 collected by Karim Laghouag (Entebbe) who ran into trouble at the first of the two angled brush fences at 12. Team-mate Thibaut Valette (Qing du Briot) also faulted at this one but came home with a relatively modest 24.4 penalties to add, while Mathieu Lemoine (Bart L), individually third after dressage, took a careful tour of the track, and the final team tally of 161.00 was good enough for overnight third.
Successive
The German dream of a third successive team title took a hammering despite a brilliant clear from defending team and individual Olympic champion Michael Jung (Sam) when Julia Krajewski (Samourai du Thot) was eliminated, so mistakes from Sandra Auffarth (Opgun Louvo) and Ingrid Klimke (Bob) had to be taken into account to drop the team from first to fourth.
But Jung (40.9 penalties) is stalking individual leader, Burton (37.6), very closely and with less than a single fence advantage the 34-year-old Australian will be under extreme pressure tomorrow. Frenchman Nicolas is just 1.1 penalty points further behind in third while Kiwi, Todd (46.0) just shades America's Philip Dutton (Mighty Nice) on 46.8 and Boyd Martin (Blackfoot Mystery), 50.9 in fifth and sixth. Burton said his horse is "very inexperienced" so he took some longer options on the course, "but the horse is so fast. I couldn't believe it….he is a rocket!"
Sensationally, Brazil's Carlos Parro has rocketed up all the way from 33rd place after dressage to hold equal-seventh spot with New Zealand's Clarke Johnston (Balmoral Sensation). Riding Summon up the Blood, and on a day when so many of the major stars of the sport failed to find the key to the course set by Frenchman Pierre Michelet, the 37-year-old Brazilian, 236th in the world rankings, will be taking on the very best in the battle for Olympic glory. And his team is lying fifth ahead of The Netherlands in sixth as the new day begins.
Unfolded
As the competition unfolded today, riders quickly learned from those who went before them, but tackling the many complex questions on the course still proved a difficult task. The reality was that only a speedy run on the direct routes would be fully rewarded, but that meant risking a glance-off or stop if the skinny combination obstacles in particular didn't come up right. In all there were 15 eliminations and two retirements while 38 of the 65 starters collected fence penalties.
Of the top 18 riders going into tomorrow's showjumping phase, the first three all completed today without adding anything to their dressage score and the remainder picked up only time penalties. In all, 27 horse-and-rider combinations had clear jumping rounds and this group included some very special horses like the 10-year-old gelding, The Duke of Cavan, who carried Japan's Oiwa Yoshiaki through the extremely challenging double of brush corners at fence six on the direct route to slot into 17th spot, and the super-honest 13-year-old Ranco who wasn't going to be rushed but who did himself and his Chilean rider, Carlos Lobos Munoz, justice as he carefully negotiated the entire track to finish 30th.
All four of the British contingent collected both fence and time penalties to slot into eighth place and Fox-Pitt was clearly disappointed at his own result. "I had a very good round, it was just annoying that I went off at that third element (of the Ski Jump). It was my fault entirely. I went too quickly I think….and there was no way I could turn him. He didn't do anything wrong. Watching those first few horses, you could see the course was asking questions all the way, and a lot of them weren't coming up with the answers," he added.
Clear
French pathfinder Astier Nicolas was just third to go today with Piaf de B'Neville and returned clear within the time. "It was such a good feeling. I realised the pressure - I had to do well for my team-mates, and that's a huge feeling. I didn't expect to have such stress and joy for the team competition. It's a very demanding course and there's never a place to drop your reins and let him breathe" he said after moving up from 11th to third place.
Michael Jung's clear promoted him to silver medal spot, but he said he didn't have an easy time before he set off on his cross-country run. "The warm-up was difficult on Sam's nerves. The loudspeakers, horses galloping by, the cheering spectators. He was already sweaty in the stables. He was overly motivated in the beginning but nevertheless wonderful. He gave me a good feeling and was still fresh at the finish line and staying inside the time was easier than I expected", he explained.
Mark Todd said "I had instructions from the team to stay safe and clear. Fence six had me worried but it was mostly a perfect round. The horse (Leonidas ll) was brilliant all the way through. I was told to take one long route and briefly thought 'do I disregard the order?' But then I thought I should better behave myself!"
Exceeded
Individual leader, Christopher Burton, said this evening that finding himself in gold medal spot going into the final day "has far exceeded my expectations!" He's not getting too carried away however. "My horse is good at dressage and I was told to take one long route and it worked out, so I'm just going to enjoy today and for tomorrow? Whatever…."
Course designer, Pierre Michelet, felt he had provided plenty of different options for the riders to get themselves around the track. "You could change your mind and take a different route if you needed it" he said, "but I was surprised there were a lot of run-outs and dramatic things happening!"
Sir Mark Todd summed it all up this evening. "I want to thank Pierre for building this course because if he hadn't then we (New Zealand) wouldn't be in silver medal position tonight! The course offered alternatives to everyone, it was perfectly jumpable but if you wanted to made a medal position then you had to go direct and fast."
The next hurdle to cross is the final horse inspection at 08.00 tomorrow morning before the medal-deciding showjumping phase of Eventing which will begin at 10.00.
Quotes:
Mark Todd (NZL) talking about negotiating the "frog" fence at the end of the Fisherman's Lake complex. "It was a relief to get over that one. The fences are coming quick and fast….two hedges and then the frog, that is hard at 570 metres a minute. There is no room for error."
Sam Griffiths (AUS): "It was a tough course and I was lucky to be on such a good horse. I am over the moon. What a star. To go straight overall you must be a gold medal rider."
Tim Price (NZL), talking about his fall on the flat on the way to fence 24 with Ringwood Sky Boy: "You walk the course so many times, you make so many plans and then you go out and fall over! But that is the nature of the game. I had planned the long route (at 23/24) from the beginning and on the first turn it happened. I am so gutted. My horse is absolutely fine."
Boyd Martin (USA): "I'm so grateful I was on an old racehorse from Kentucky (Blackfoot Mystery)! He kept fighting the whole way home. It's one of those courses where you can't ease up for one second. You've got to jump, get through one fence then think about the next.
I'm relieved. My biggest fear was letting everyone down, especially the group that bought him, my team-mates, and my country. The biggest thing that motivates me is to not fail. I have to say, I thought I was fit but I'm not (laughs). I ride events week after week after week and I've never been gassed (short of breath) after cross country, which goes to show how hard I had to work to get him around!"
Astier Nicolas (FRA): "I feel very proud this evening being in third place amongst riders like these! If I ride until Mark's age I still have 33 years to go! We have three relatively young talents on our team, and it's great for us all to be here."
TAG 2 DRESSUR
Klimke secures narrow German lead in Olympic Eventing ahead of intriguing cross-country challenge
by Louise Parkes
A brilliant ride by Ingrid Klimke maintained Team Germany's lead as Eventing dressage drew to a close today at Deodoro Olympic Park in Rio de Janeiro (BRA). But her score of 39.50 with Bob gives the defending Olympic champions only a fractional advantage of 0.2 penalties over the feisty French side going into tomorrow's much-anticipated cross-country phase.
In a typical Olympic contest during which some competitors exceeded expectations while others couldn't find the performances they were looking for today, it was the mark of 39.20 earned by Mathieu Lemoine and the elegant Bart L that put the French right into the frame. So, fourth-last to go, Klimke could feel the pressure, but the 48-year-old daughter of dressage legend Reiner Klimke, who scooped eight Olympic medals during his spectacular career, kept a cool head.
It wasn't all plain sailing however.
"Bob was quite excited outside in the warm-up and he was bucking, but when he came into the arena he just went "OK, here I am, I'm ready - if you want let's go for it!" she said afterwards.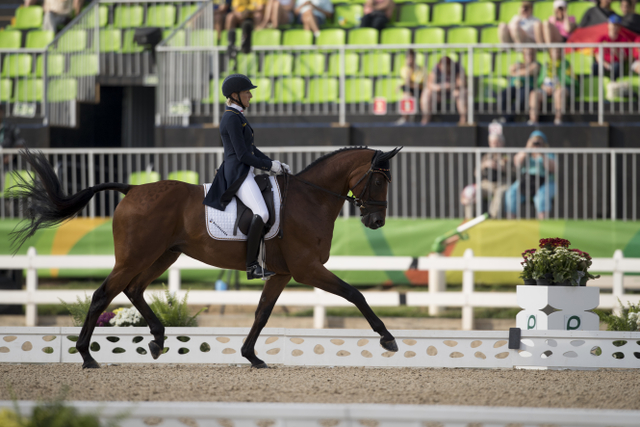 Little
There's very little between the leading group of countries going into tomorrow's cross-country phase, with the Australians lying third, just over four penalty points behind the French, and the British just one more point further adrift in fourth. The Irish moved up a place to fifth thanks to a great performance from Jonty Evans and Cooley's Rorkes Drift, while New Zealand and USA share sixth.
First-day leader, Great Britain's William Fox-Pitt, remains at the head of the individual standings with Australia's Christopher Burton hot on his heels, and Lemoine has slotted into third and Klimke into fourth, while defending double-Olympic champion, Michael Jung, is next in line in fifth place. With less than five points separating the top 10 riders however, and few, if any, expected to avoid time penalties while negotiating the tough track set by French course designer, Pierre Michelet, the stage is set for a tremendous day of cross-country action tomorrow.
"I haven't seen such a challenging course since Sydney (2000 Olympic Games). My Bobby is fast and he is a mature horse so he should cope well and I'm looking forward to it. But we know that when we go out there we have to do a very precise job tomorrow," Klimke said this evening.
Surprises
There were surprises of various kinds as the day-two session played out, with some dreams beginning to unravel while others were just starting to take shape. The latter was the case for Jonty Evans who produced a personal-best score at championship level when posting 41.80 with Cooley's Rorkes Drift. This has left him lying ninth individually and has anchored his country's chances going into their more-favoured cross-country phase. The judges clearly appreciated the quality of the canterwork of his 10-year-old gelding, one of 11 Irish-bred horses in the field of 65 starters. Evans said, "I'm thrilled to bits with him, he couldn't have done any more today - he couldn't have tried any harder."
China's Alex Hua Tian enjoyed some moments of brilliance in his test, but had to settle for 42.40 and 12th place at the end of the day with Don Geniro. "I made two big mistakes, the judges really wanted to give me good mark - but I nailed all the changes I think" he said. "The first entry was great, he has a massive extended trot but he took an unbalanced step and broke into canter. It's very frustrating because it's the extended that gives him his big scores!" he pointed out.
Belgium's Karen Donckers slotted herself into seventh individually when posting 41.10 with Fletcha van't Verahof, but it was two competitive results from Lemoine and Thibaut Valette (Qing du Briot) who put 41.00 on the board, that kept the French team right in the frame. Meanwhile Australia's Shane Rose really did the business with CP Qualified whose 42.50 ensured the 56.80 posted by Stuart Tinney and Pluto Mio could be discounted.
Tense
Many of the horses were tense coming into the arena today, but Rose reassured his 13-year-old Holsteiner gelding with a big pat on the neck before going to work into the arena, and was rewarded with a very pleasant performance. Last-line British rider, Kitty King, found herself struggling from the start however with the Dutch-bred Ceylor LAN. And another for whom things didn't go quite the right way was New Zealand's Jonelle Price whose nine-year-old, Faerie Dianimo, broke into a canter during their early trot-work, eventually posting 49.50. "I was very disappointed" she said, "he was really hot in the warm-up but I was hoping for better in the arena. It was too bad it happened at the Olympic Games, but I'm hoping for a much better day tomorrow."
Klimke's vital anchor ride for Germany might also have been blighted by over-enthusiasm, but she managed to get all the fizz under control at just the right moment and pulled off that all-important score that has kept Germany out in front in the race for the team medals. "I was so pleased in the end, he did a fabulous test" she said of the 12-year-old Bob.
Influencing
Every one of the riders agree however that dressage will not be the all-influencing factor in Eventing at the Rio 2016 Olympic Games. Pierre Michelet has thought long and hard about how to challenge the most experienced riders in the sport along with those who have relatively less mileage on the clock.
"I want the best to win without asking too big questions of the less experienced riders. The reputation of the sport is important. I want to challenge the riders and I ask them to find clever solutions for the many options on offer. To get on the podium they will need to be brave, accurate and bold" he said. There has indeed been a lot of course-walking going on over the last few days as riders make their plans and then alter them and settle on new ones that will get them home on the quickest and safest route.
"This course is not about one signature fence, it's about about clearing all of them! I ask the difficult questions from the start, that is my signature. The first water will be fence no. 4 already. The riders need to be ready from step one."
Track
Talking about creating the lovely track that wends it way up and downhill through the land that surround the Deodoro military complex he explained, "we started three years ago, first with an architectural firm to map out the track and the walkways and then the track builders started to work with improving the ground. Then we decided the spots for the fences. I came to Brazil in December for a month and the final details took two weeks. The layout was the same for the test event in 2015, but all the fences are new because of the different level of difficulty" he pointed out.
Cross-country day looks set to be a thriller, and it seems it's going to be a wide-open race for the medals right down to the final day. There is almost nothing between the Germans and French at the head of affairs, and with the British so close to the Australians who are currently in bronze medal spot and Ireland, New Zealand and USA a real threat to any of those ahead of them who might lose their grip there's no room for error over a course that, the night before they take it on, may well be giving many of the world's top event riders a restless night's sleep.
Quotes:
Pippa Funnell (GBR): "I was really, really pleased with his [Billy The Biz] performance, I was thrilled with him. There were a few little bits here and there, but if I'm honest I think I'm being greedy, if I think of where he came from three years ago I'm thrilled."
Kitty King (GBR): "It was slightly disappointing because he's capable of a lot better; he did some good work but he just made a couple of uncharacteristic mistakes. One of his highlights is usually his medium trot, but it's a massive atmosphere for the horse and he's only nine. Today wasn't quite what we'd hoped for but hopefully we'll pull some back tomorrow."
Pierre Michelet course designer (FRA): When asked about the Ground Jury's opinion of his cross-country track - "they said it is fantastic, but they are always polite!"
Nick Turner, Irish Chef d'Equipe, talking about the competitive position of his team after dressage: "We are doing great and now we just need to keep a lid on it. They (the Irish team) just need to keep doing what they're doing. This result is why these four riders were selected."
TAG 1 DRESSUR:
Fox-Pitt forges the early lead in Olympic Eventing
By Louise Parkes
It's not everyone's idea of the perfect rehab for a serious head injury, but Britain's William Fox-Pitt defied all the odds to take the early lead as Olympic Eventing got underway at Deodoro Olympic Park in Rio de Janeiro (BRA) today.
Riding the 16-year-old stallion, Chilli Morning, the man who spent two weeks in a coma after a fall while competing in France last October threw down a great dressage score of 37.00.
"All along Rio has been my target, totally. It was unrealistic, but it was mine. I was in a coma for a couple of weeks and my sight was quite dodgy, I went from blind to seeing double so when I started jumping there were two jumps. It's been a journey, but I've had so much support!" said the 47-year-old rider.
He was chasing the target of 37.60 set by Australia's Christopher Burton and and his regal nine-year-old gelding, Santano B, whose expressive performance was greeted by a roar of approval from the crowd. But when Fox-Pitt went out in front, the gentlemanly Brit was rewarded with another huge response from the spectators. His result, added to the 47.20 achieved by Gemma Tattersall with Quicklook V, leaves Team GB in third before the remaining 31 horse-and-rider combinations take their turn in the dressage phase tomorrow.
Just behind Burton in the individual rankings is defending team and individual Olympic champion Michael Jung from Germany who scored 40.90, and with his compatriot Sandra Auffarth in fourth with Opgun Louvo the Germans head the team rankings followed by Australia in runner-up spot. There is plenty of pressure on the remaining team members tomorrow, because just 1.4 points separate the two leading sides, with the British only 0.3 further behind.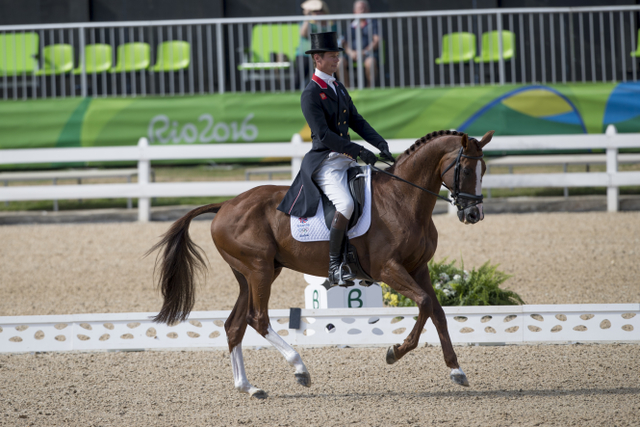 Leading
A total of 33 horse-and-rider combinations stepped into the arena today and it was Auffarth, ninth to go, who set the leading score at 41.60 before the lunch-break. Her test was not flawless however - "I made a mistake and that made me make another one!" admitted the rider who took team gold and individual bronze at the London 2012 Olympic Games.
Burton's young Hannoverian drew gasps of delight from the crowd as he floated through extravagant extended trot to go out in front, but Fox-Pitt swept the 44-year-old Australian off the top of the leaderboard with a test the British rider said, "is what dreams are made of!" And when the man they all fear most, the phenomenally consistent German Michael Jung, had a hiccup with his Badminton winner Sam, then the top of the first-day leaderboard wouldn't change. "I made a stupid mistake in canter. It wasn't because he was nervous, we just lost a little bit of communication" Jung explained.
Fox-Pitt was his usual modest self. Talking about his ride with Chilli Morning he said, "he's good on the flat, capable of doing a very good test and I didn't want to let him down. Today he felt happy and calm, but there are a lot of good horses to come and it will be what it will be" he pointed out, looking forward to the next two phases.
Cross-country track
Pierre Michelet's cross-country track is a major talking point. Fox-Pitt described it today as "a decent course, the biggest Olympic course I've walked, but Chilli is more than ready, I just hope I can do him justice."
He continued, "it's a true Michelet course, four corners and four skinnies, always committing you so that if you are not right on line then you will have a run-out, always encouraging you to attack it. The distances are all on the long side, it's the most difficult Olympic Games I've seen but that's how it should be. It will be a pretty good feeling if I go clear!"
He feels Chilli Morning will tackle it without difficulty however. "There are no worrying fences out there for him, fence six (brush corners) is ugly, but the one I really don't like is the corner to the gate (fences 23/23, The Malmesbury Cottage), there are just four strides to do it in, and with Chilli that's a big question because he's big and strong" he added.
Fox-Pitt will have plenty of support when he heads out on cross-country day, because his story is one of tremendous success along with enormous courage, determination and resilience. And he just happens to be one of the most popular competitors in the sport. "It was great to have Rio to aim for" he said today. "The Games have come at the perfect time, I'm just ready in time, I've been very lucky with my rehab, and my physical and mental fitness is back on track."
He has two team silver and one bronze Olympic medal already in his trophy cabinet, but an individual one has proved elusive during his spectacular career. He has given himself every chance of putting that to rights this time around, but there is another day of dressage to go before the individual and team leaderboards take shape ahead of what looks set to be a thrilling cross-country challenge on Monday and a nail-biting conclusion in the jumping arena on Tuesday.
Quotes:
William Fox-Pitt GBR: "Chilli is lean, he's fit and well but he lost some weight on the journey here, he's an older horse and it's kind of his metabolism. I've never lost an event because I've been on a skinny horse! He felt good and very together, he can be a bit sprightly so I was pleased with how we went today."
German Chef d'Equipe, Hans Melzer: talking about the decision to replace Andreas Ostholt and So is Et with Julia Krajewski and Samurai du Thot in his team - "Sport is tough. This was a tough decision which does not earn you a lot of friends but somebody has to take responsibility. Andreas was great in training, that is why we took him, but we can't take the slightest risk regarding the horse's health. I can relate to his feelings, but the decision stands."
Mark Todd NZL, talking about his test with Leonidas ll: I was hoping for better, he was a little bit distracted and got excited before we started, the trot was tense but it got better and he went well in canter. The cross-country track is very strong….you'll know after (fence) six if you are in with a chance or not."